Tonight's the night.
NHL Awards in Las Vegas!
Bring on the attractive hockey players in impeccably fitted suits.  Bring on the awkward (and hilarious) red carpet interviews.   Bring on the D-list celebrities who can't pronounce the winner's name (Martin St. Lewis!).
Here's who we think is going to bring on the hardware…
---
Hart (Lundqvist/Malkin/Stamkos)
Should: Chuck says Lundqvist. Pants says Malkin.
Will: Chuck says Lundqvist. Pants says Malkin.
Split decision on this one. King Henrik kept the Rangers at first in the East pretty much all season – without so much as a hair out of place. But the day there is no room for Comeback Crosby on the Pens' first line is the day Malkin deserves the Hart.
Vezina: (Lundqvist/Rinne/Quick)
Should: Quick
Will: Quick
A league-high 10 shutouts saved the Kings' 29th ranked offense. Plus, he's already got the Conn Smythe Trophy and a Stanley Cup, so what's one more?
Norris (Chara/Karlsson/Weber)
Should: Chara
Will: Chara
We're going to have the give this one to Chara. Because you won't like him when he's angry. CHARA SMASH!
Calder (Henrique/Landeskog/Nugent-Hopkins)
Should: Landeskog
Will: Nugent-Hopkins
No doubt The Nuge was the more electric rookie this season, but we're big fans of Gabe the Babe. The potential for Landeskoging tips the scales here.
Lady Byng (Brian Campbell/Eberle/Moulson)
Should: Campbell
Will: Campbell
No defenseman has won in over fifty years – it's time!  Campbell's 6 PIM in 82 games would be enough – but he also doubled last season's production, notching 53 points from the blue line.
Selke (Backes/Bergeron/Datsyuk)
Should: Bergeron
Will: Bergeron
His season was full of Selke-worthy numbers and stats (like winning 53% of faceoffs when shorthanded) so we're rooting for the highly-underrated Bergeron to be the first Bruin to take home the trophy since 1982.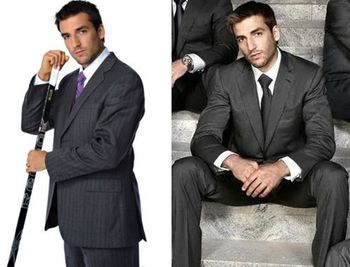 Adams (Hitchcock/MacLean/Tortorella)
Should: Hitchcock
Will: Hitchcock
In November, the Blues were not good. Enter Ken Hitchcock. They got good. Although their playoff run ended early, Hitchcock managed to change the culture of the Blues and help position the franchise as a team to be watched.
Masterton (Alfredsson/Lupul/Pacioretty)
Should: Lupul
Will: Alfredsson
We admire Alfredsson's seniority and dedication to the Sens, but Lupul's comeback from a spinal cord contusion and life-threatening blood infection only to be dropped by the Ducks then put up career best numbers in struggling Toronto?  Our hero.
Lindsay — Player MVP (Lundqvist/Malkin/Stamkos)
Should: Malkin
Will: Malkin
Malkin does it all – including make his teammates better players. Everybody wants to be on that line.
GM of the Year: (Doug Armstrong/David Poile/Dale Tallon)
Should: Dale Tallon
Will: Dale Tallon
Extreme Makeover: Hockey Edition. Tallon brought in seven of Florida's top eleven scorers. They landed their first playoff appearance in 12 years and first ever division title with money leftover to buy more rats.
Tags:
brian campbell
,
Dale Tallon
,
Evgeni Malkin
,
Gabriel
,
henrik lundqvist
,
Joffrey Lupul
,
Jonathan Quick
,
Ken Hitchcock
,
Las Vegas
,
NHL Awards
,
Patrice Bergeron
,
steven stamkos